The main research focus is on study of early imaging, biochemical and genetic markers of neurodegenerative brain diseases (from an animal model to human studies), pathophysiological mechanisms for neuropathic pain, immunopathological mechanisms of multiple sclerosis, and cognitive and behavioural symptoms of Parkinson's disease, Alzheimer's disease and schizophrenia. We particularly use multimodal brain and spinal cord imaging alone or in combination with noninvasive brain stimulation such as repetitive transcranial magnetic stimulation (rTMS). rTMS utilizes rapid magnetic pulses applied over the scalp with a small hand-held coil to induce precisely timed and localized electrical currents within the cortex of human subjects. It provides a non-invasive tool for studying pathophysiological mechanisms of various motor, cognitive and neuropsychiatric symptoms and may induce treatment effects. Other techniques have also been employed including quantitative sensory testing (QST), dynamic QST, and immunohistochemistry of dermal nerve fibers using skin biopsy.

---
MAFIL is open CEITEC laboratory providing advanced imaging services for CEITEC research teams as well as external users. Basic techniques on which the action is based are human MR imaging and MR spectroscopy in high field (3 T) and electrophysiological techniques (high density EEG, simultaneous measurements of electrophysiology and MRI). MAFIL expertise is mainly focused on functional and structural mapping of human brain because this core-facility was designed primarily to support neuroscience research. Regarding the fact CF MAFIL performs measurements of living subjects access to laboratory services conforms to specific organizational and operational guidelines.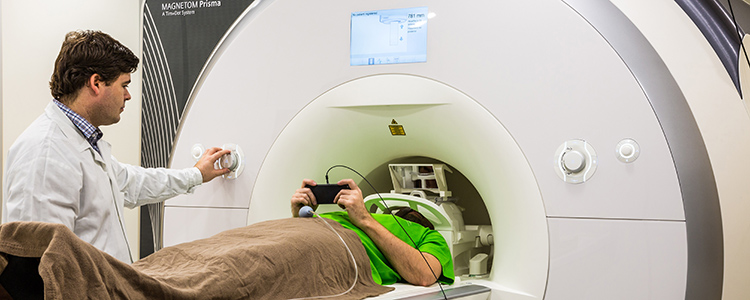 The Neuroimaging Research Group was established in 2009, covering an unmet need of the neuroscience community in Szeged. Since its start, the Group works in strong collaboration with various research groups in the Department of Neurology and other neuroscience related departments and institutes in Szeged, in Hungary and also abroad. The leader of the research group is Zsigmond Tamás Kincses gained experience in the neuroscience field, human neurophysiological and imaging approaches in world leading centres in Göttingen and Oxford. Currently, two postdoctoral researchers, six PhD students, and several undergrads are working in the lab.

The MRI measurements are carried out on a 1.5T GE Signa HDx scanner, that will be updated to a 3T unit in the summer of 2016. A modern neurophysiology lab was established in 2014, including an EEG system, TMS, eye tracker, tDCS and contact heat pain stimulator.

Over the last a few years the lab has been financed from several national and international grants. In the last seven years, the co-workers authored and co-authored 25 peer- reviewed papers with a cumulative impact factor of 69.7.

Currently the Group has three major interests: multiple sclerosis, primary headache disorders, dementias.